Staff
NEIL McCARTHY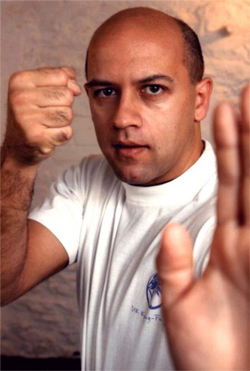 At 48, Neil has been training in martial arts for 37 years. His passion and commitment to training lead to the foundation of the UK Kung Fu School. Neil started training in Judo when he was eleven and began teaching when he was eighteen. Running parallel to this, Neil also studied Chang Chuan Shu (long fist art), a kung fu style with Chris. Ellerker (then chairman for the BCCMA). Neil has also trained in Thai boxing, kickboxing, Tai Chi, Hsing-I, Ba Gua, Jeet Kune Do and Aikido. He started training In the Kung Fu Style of Teh Ji Han Jeung Dao when he was twenty-one with Chris. Linstead (Instructor and founder of the style) and began formally teaching the style to children in 1993. Neil has over twenty nine years experience training in the martial arts and sixteen years experience teaching. In 1997, Neil attained the grade of senior student from founder of Teh Ji Han Jeung Dao, Chris. Linstead. Following this, he founded the UK Kung Fu School and continued to develop both the school and his own skills in martial arts.
Classes grew from there and he is now teaching adult mixed classes, two children's classes as well as various seminars and training courses.
He has gained extensive knowledge by travelling through out the world practicing and researching martial arts and self defence concepts and applications. His travels have taken him to China, Taiwan, India, Hong Kong, Thailand, Europe and America. Neil has both worked and trained in India and America. In 2004, Neil took 11 of his students to China to experience training at the Shaolin Temples. Since then, he has taken numerous students to the Temples with groups going every couple of years.
In parallel to this, Neil also studies and teaches internal martial arts specifically directed to health, vitality and fitness. This also includes the study of Chinese medicine, acupunture and Shiatsu massage, a form of oriental healing and well being. He has been involved in the study and practice of shiatsu since 1995 and is a registered member of the Shiatsu Society, the governing body for Shiatsu in the UK. Neil is also qualified to use acupunture techniques which he employs during the Shiatsu practice.
He believes there is a natural progression with martial arts which leads to a greater understanding of the human body. He therefore combines the understanding of Shiatsu, acupunture and Kung fu which blends to a sensitive mixture of effective martial and healing techniques.
---
MATT ELLIS
From a young age, Matt has had an interest in various forms of martial arts.
He first started one-to-one training with Luke Tumana who had graduated from the founder of the Ji Han Jeung Dao style, Chris Linstead's, school of Kung Fu.
In addition to his personal tuition, Matt joined the UK Kung Fu School and started training with Neil McCarthy (principal teacher). His passion for martial arts and the desire to widen his knowledge grew, and he has progressed to running a regular class for adult students. Matt is committed to the development of the style and believes in the wider application of Kung Fu, and its philosophy, to everyday life.
---
STEVE PAYNE
Steve's passion for martial arts began as a young boy watching Chinese kung fu films and being mesmerised by the great Bruce Lee.
Steve began his training in Chang Ch'uan Shu (long fist Art) as a teenager and continued his studies under the tutelage of Des Harman. During his time with Des, Steve assisted with many demonstrations, self defence courses and seminars.
Steve's journey into the martial arts furthered when he met Neil and began his studies with the UK Kung Fu School. Already having a rich understanding of martial arts, steve embraced the schools philosophy and was training in six sessions a week.
Steve states "I see teaching as a natural progression and it compliments my own training very well."
In 2005, independently of the school, Steve travelled to China and trained at the famed Shaolin Temple. This was a twenty year ambition, fulfilled with great passion and further acknowledging Steve's enjoyment of the arts.